On 9th January 2018, an investment agreement signing ceremony was held between The Jiuyou Equity Investment Fund Partnership (Limited partnership) in Xiao county, Anhui province and Shanghai Greatpower New Energy Technology Group Co., LTD.
Xiao County Jiyou Equity Investment Fund is the industrial fund of Shanghai Zhangjiang High-tech Zone. In 2015, it established a partnership with Xiao County Construction Investment And set up an industrial guidance fund of 1 billion yuan, which successfully guided many enterprises to settle in Zhangjiang Xiao county High-tech Park by means of equity capital injection.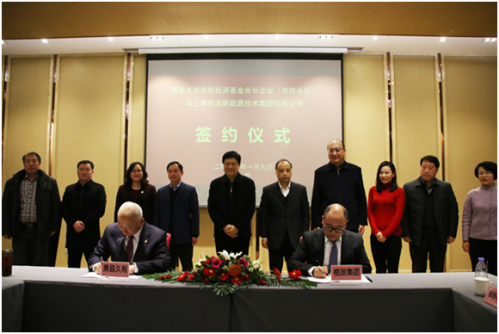 The picture is: Xiaolong Liu, the representative of Jiuyou Equity Investment Fund Partnership (Limited partnership) in Xiao county, signed a contract with Dongqiang Cao, the representative of Shanghai Greatpower Technology Group Co., LTD.
The investment agreement of the project was signed by Xiaolong Liu, the representative of Jiu You Equity Investment Fund Partnership (Limited partnership) in Xiao county, and Dongqiang Cao, the representative of Shanghai Greatpower Technology Group Co., LTD.
Based on the model of "fund + base, investment + service", Jiuyou Fund of Xiao County plans to invest 400 million yuan in Greatpower New Energy Company, become an important shareholder of the company, and introduce the company as a whole to The High-tech industrial park of Zhangjiang Xiao County.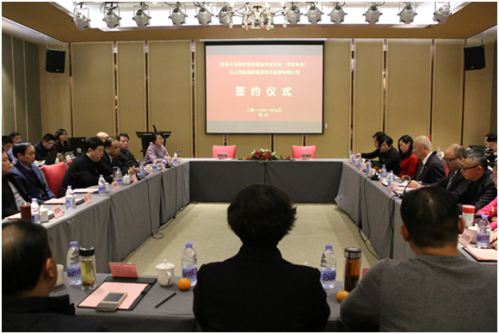 The picture is :the signing site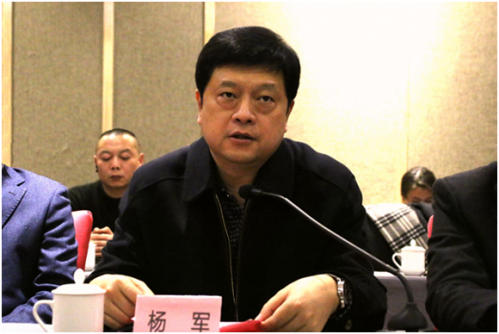 The picture is: Suzhou mayor Yang Jun attended the signing ceremony and made a speech
Xiao County is known as "the thoroughfare of four provinces" because of its superior location and transportation. It is an important node for the country to implement the overall strategy such as "One Belt and One Road" and "central plains economic zone" and the regional strategy such as "eastward development" and "revitalization of northern Anhui". Longhai, Xufu railway road cross, the newly opened Zhengzhou-Xuzhou high-speed railway Xiao county North Station, Lianhuo, Beijing-Taipei two expressways, the initial formation of a railway, highway, high-speed rail, high-speed combination of three-dimensional traffic network and comprehensive transport system. Xiao County has a profound history and culture. It is the birthplace of Han culture and filial piety culture. There are jinzhai Cultural relics, Huajia Temple relics and other cultural relics left over from the late Neolithic Age. Xiao County, known as the "literature of the country" reputation, is the hometown of Chinese painting and calligraphy art, the hometown of Chinese folk culture and art, Anhui Province cultural relics county. Within the territory of Huang Zangyu National Forest Park, a national 4A tourist scenic spot, one of the national hundred red tourism classic scenic spots - the former site of Huaihai Battle General Front Committee Cai Wa. Xiao County is rich in mineral resources, abundant agricultural and sideline products resources, with 12 national pollution-free agricultural production areas, is the famous "Fruit sea granary", "hometown of grapes", national high-quality fruit base, national green food raw material standardized production base. As one of the important sources of anticorrosion industry in China, Xiao County enjoys superior industrial base conditions and is "the first county of anticorrosion industry in China". Xiao County has Chinese reform and innovation pilot county, the national plain greening advanced county, Anhui Province civilized city and many other prominent characteristics and strength of the development card. The county plans to build "one district and five parks", and each professional park has a clear functional positioning and leading industry, and the development trend is good, among which Xiao county Economic Development Zone is a provincial development zone. Shanghai Zhangjiang Xiao county High-tech Park is the first one jointly built by Shanghai Zhangjiang High-tech Zone and the county level. The park has successfully applied for the Anhui Provincial Science and Technology Incubator.

The picture is: Zhangjiang Xiao county High-tech Park
Shanghai Greatpower New Energy Technology Co., Ltd. was founded in 2006, committed to building the world's leading power battery, small secondary battery and energy storage battery industry ecosystem, dedicated to the development of new energy resources and technologies, so as to make a contribution to the sustainable development of mankind.
Greatpower's new energy investment areas include: lithium ion batteries and solid-state batteries needed by the important metal lithium, cobalt, nickel mines; Lithium carbonate, lithium hydroxide, lithium metal and other basic lithium materials; Basic cobalt materials such as cobalt sulfate and cobalt tetroxide; Basic nickel materials such as nickel sulfate and nickel hydroxide; Nickel cobalt manganese hydroxide precursor; Nickel cobalt manganese lithium oxide, nickel cobalt aluminum lithium oxide, lithium manganese acid, lithium cobalt oxide and other positive electrode materials; Power batteries, consumer batteries, energy storage batteries; The whole industrial chain of cascade utilization and regeneration of retired power batteries.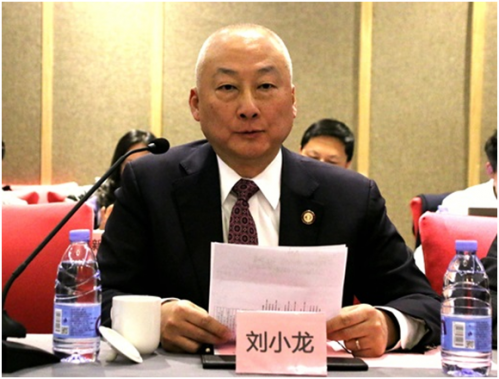 The picture is: Xiaolong Liu, chairman of the board of directors of Jiuyou Equity Investment Fund Partnership (limited partnership)
According to the introduction of Chairman Xiaolong Liu, the highlights of the investment of the project are as follows: Greatpower has established a global trading battery metal supply chain, focusing on the cobalt-Nickel-lithium field of new energy battery metal mining, and is a high-growth enterprise with an annual compound growth rate of over 50%.
The battery-related cobalt, lithium and nickel resources trading business of Greatpower has become the industry leader, ranking the first in China at present. The annual trading volume of nickel sulfide resources exceeded 100,000 tons, ranking the second in China. Zhejiang Zhongjin Greatpower (cobalt and nickel products) and Jiangsu Greatpower (lithium products) production enterprises, is the industry's only nickel-cobalt lithium whole system strategic layout enterprises.
From the perspective of market analysis, new-energy vehicles have been vigorously promoted around the world, and Chinese market share has reached 41%, ranking first in the world. The National Development and Reform Commission and the Ministry of Industry and Information Technology predict that the output of electric vehicles in China will reach 7 million units in 2020-2025. Ternary materials containing lithium nickel and cobalt are replacing lithium iron phosphate as the mainstream of power batteries. Nickel, cobalt and lithium are scarce resources, which will become strategic resources in the new era. The upstream nickel and cobalt lithium enterprises will become the new "Opec".
Dongqiang Cao, the founder of the project company, as an industry leader has accumulated many years of contacts resources and experience in the field of battery metal resources, so he can obtain the best nickel-cobalt lithium resources in the world. Nickel: Only Jinchuan and Greatpower have upstream resources in China; Cobalt: There are only 6-7 suppliers in the world. Grenada and mainstream suppliers have long-term cooperation agreements, and Grenada accounts for 60-70% of the domestic share. Lithium: There is no large trader in China. Greatpower has a long-term cooperation with Galaxy Resources in Australia to obtain high-quality lithium pyroxene resources. Greatpower maintains long-term cooperation with the world's top mining companies, fully guaranteeing its own resource supply.
The picture is: Dongqiang Can, chairman of Shanghai Gepai New Energy Technology Group Co., LTD
Shanghai Greatpower will register and establish Anhui Greatpower Technology Co., Ltd. in Xiao county, Anhui province, as the listed entity, and set up a wholly owned subsidiary to produce positive electrode materials for lithium batteries. It is estimated that the annual revenue of Greatpower group will reach RMB 7 billion by 2020.
After the production of positive electrode materials, the annual revenue is expected to reach 2.7 billion yuan. Investment in Greatpower can not only introduce listed enterprises to Xiao County, improve the overall economic strength of the local, but also play an important role in the industrial chain of new energy vehicles, occupying the commanding height of Chinese new energy industrial chain in the next 10-20 years. With years of industrial chain operation experience and technical and team support formed in strategic cooperation with Jinchuan Group, the largest nickel and cobalt group in Asia and power battery materials group. At present, Greatpower takes the lead in the field of international trade channels and has obtained the overall support from the technical team of Jinchuan Stock Co., LTD (the world's largest Ternary material manufacturer) in manufacturing industry (Ternary material production process is simpler than semiconductor industry). It will be sure to achieve the above goals within a short time.
Dongqiang Cao said at the signing ceremony that the strategic cooperation between Greatpower New Energy and Jiuyou Fund is an important step for Greatpower to develop the field of power batteries for new energy vehicles. The company will quickly complete the integration of the industrial chain from resources to technology, transform the company's resource advantages into industrial structure advantages, and build a leading supplier of key materials for power batteries in Chinese new energy automobile industry.
Source: Business network
Author: jiaotongwang. Cn